Recruitment Solution for Exploration & Drilling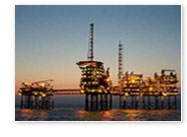 Exploration Involves the search for rock formations associated with oil or natural gas deposits, and involves geophysical prospecting and/or exploratory drilling.
Well development occurs after exploration has located an economically recoverable field, and involves the construction of one or more wells from the beginning (called spudding) to either abandonment if no hydrocarbons are found, or to well completion if hydrocarbons are found in sufficient quantities.
Production is the process of extracting the hydrocarbons and separating the mixture of liquid hydrocarbons, gas, water, and solids, removing the constituents that are non-sale able, and selling the liquid hydrocarbons and gas. Production sites often handle crude oil from more than one well. Oil is nearly always processed at a refinery; natural gas may be processed to remove impurities either in the field or at a natural gas processing plant.
site abandonment involves plugging the well(s) and restoring the site when a recently-drilled well lacks the potential to produce economic quantities of oil or gas, or when a production well is no longer economically viable.
Current Scenario of Exploration, Drilling, Rigs, Consultation and related Upstream Activities.
Since Oil and Gas is a depleting natural resource, large oil companies are always in the search for greener pastures where they can get more oil. This hunt for 'black gold' requires the resources of explorers. It takes significant education and training to work in exploration and drilling specializing in areas such as engineering, seismic testing, drilling, operation of service rigs, and other equipment manufacture and supply.
In the search for crude oil and natural gas the drilling industry plays a vital role all over the globe. It would be pretty much futile without the drillers. The geologists and other scientists specialize in studies of oil resources and find out where to find oil, after which, the drillers start work on the site to extract oil.

According to industry research, there are over 3,000 oil rigs worldwide. All these rigs require lots of manpower to keep the Industry going and provide energy to the world. There are several job vacancies for such oil rigs at any point of time.

A bird eyes view of the upstream activities:

Consultation
It is the initial stages of oil exploration where experts either employed by Oil companies or under contract from a private firm are involved in planning for the exploration of crude oil.

Exploration
Exploration comprises of the search and prospecting of sites for extraction of crude oil. The sites can be Off-shore or On-shore.

Rigs
Rigs form the entire setup of the drilling system to extract oil from the reserve under the surface of the earth.

Drilling
The process by which holes are made on the surface of the earth to extract the oil from underneath is known as drilling.


Reservoir
The reserve from which crude oil is pumped out is known as the reservoir.
Job Profiles
Some of the profiles facilitated by Shella Consultants in the upstream activities are for consultation, exploration, drilling and rigs. These profiles are listed below-

Senior Geophysicist
E&P Technical Assistant
Mudlogging Geologist
Mud Logging
Log Data Technician
Instrumentation Project Engineer
Principal Engineer
Log Analyst
Aeromagnetic Specialist Auditors
Production Geologist
Senior / Staff Development Geophysicist
Project Engineer - Streamer
Field Geologists and Field Engineers
Directional Drilling Consultants
Mechanic - Workover Rigs
Chief Rig Mechanics
Rig Electrician
Motorman
Rig Managers
Senior Drilling Supervisor
Drilling & Completion Interface Engineer
Directional Driller
Offshore Drilling Crew member
Offshore Drilling Personnel
Well Site Leader
OIM / Toolpusher
Drillers, Toolpushers,
Performance Toolpusher
Field Service Specialist
Rig Superintendent / Senior Toolpusher
Toolpushers & Rig Managers
Field Service Specialist
Toolpusher/Night Toolpusher, Rotational
Production Seismologist
Surveyor
Sr. GoM Geophysicist
Geologist
Geological Modeller
Sr Staff Geophysicist
Petrophysicists
Gravity Specialist Auditors
Entry Level Pore Pressure/Geomechanics Specialist
Project Engineer - Instrument
VSP Imager - Global Energy Company
Mud Logger Trainees
Mechanical Supervisor
Supervisor - Workover Rig Operation
Chief Rig Electricians
Derrickman
Project Manager
Drill Site Manager
Drilling Superintendent
Driller
Roustabout
Toolpusher
Drilling Personnel
Offshore Personnel
Directional Drilling Consultants
Oil and Gas Drillng Personnel
Supervisor - Workover Rig Operation
Assistant Rig Superintendent / Tourpusher
Workover Rigs
Variable Frequency Drive Drillers/Tourpushers, Rotational
Why Us?
Our aim is to provide our clients with value based human resource solutions, oilfield jobs, oilfield recruitments that are developed through long term partnerships, founded on integrity, desired results, and a passion for excellence. We strive to be your business partner of choice. Some of our practices include the following-
We selectively choose the candidates to fit the needs of our valued customers and create long-term relationships without compromising on our core values.
Rigorous validation process to verify information provided by candidates
Intensive pre-selection scanning to measure competence and aptitude of candidates.
The professional recruiters at Shella Consultants are experienced in Oil and Gas industry and are committed to searching and identifying the candidates with applicable skills, that are essential to meeting your specific needs.