Recruitment Services for Project Management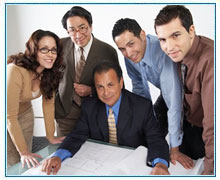 If you are looking for a project management recruitment agency to help you find suitable candidates for available roles, Design & Construct can provide you with the assistance you need.

Shella Consultants is a leading recruitment company providing a first-class, highly personalised service catering to a diverse range of clients and firms countrywide. Whether you require permanent candidates or contract services, our multi-skilled team are on hand to meet your requirements.

Our numerous contacts in industries, together with our specialist recruitment knowledge, means that we're able to select the cream of crops for all your Project management job requirements.

We specialise in helping our client's fill project management jobs all across the world and our consultants offer a range of recruitment solutions to meet your individual requirements.

At Shella Consultants, our staff have years of personal experience in the recruitment industry - you'll find our proven strategies speak for themselves. We are committed to taking on your needs and delivering an effective, timely and professional service.
PROJECT MANAGEMENT RECRUITMENT-THE PROCESS
Jobs in project management require a unique set of skills and many businesses face the challenge of finding the perfect candidate for a specific role. When you enlist the services of a specialist project management recruitment agency, you will benefit from practical, knowledgeable support throughout the hiring process. We can provide you with all the resources and information you need to fill the role.

In addition to skills assessment tests and salary surveys, you'll also find we are successful at matching suitable candidates to project management roles - and our confidential, professional approach to the process means you'll find the exact person you need for the job.


WHY CHOOSE SHELLA CONSULTANTS ?
Project management recruitment can be carried out in a range of different ways, depending on your requirements. Popular options to choose from are contingency recruitment, exclusive recruitment and executive search and retained assignments.

Project management recruitment can also be carried out as part of our executive search and retained assignment services, which usually involve sourcing skilled, high-calibre candidates base, who are already working.

The team at Shella Consultants can provide you with help when it comes to your advertising strategy and offer assistance in creating behavioural profiles for each role. We're not only passionate about the industry, but about building relationships with our clients.


HOW WE CAN HELP
Our approach to recruitment involves a high level of personal service to ensure you find the right person for the job - including candidates who have the skills and personalities to fit your company's culture.

Strategies used by Shella Consultants to help you locate the right candidates for project management roles include networking, attending industry conferences, seminars and recruitment open days, referral schemes, headhunting and our own knowledge and experience. We provide a comprehensive project management recruitment service dedicated to the supply of qualified and experienced technical staff on a permanent and temporary basis for the following positions
Job Profiles
Director
Project Director
Manager
Quality Control Team
Safety Management Team
Safety Manager
Project Manager
Senior Project Manager
Project Coordinator
Junior Project Manager
Contract Administrator