International Recruitment Services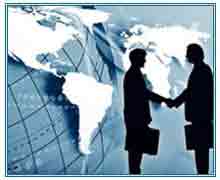 Leveraging our unparalleled expertise of professional recruitment principles, along with a deep understanding of international man power recruitment processes, we provide comprehensive HR services & recruitment solutions to maximize our clients' manpower potential.

The hunt for quality talent can require overseas recruitment of particular skills. Being a global organization, we have placed job seekers in
Middle East
Africa
Russia
CIS Countries
Korea
Japan
Europe and more…
Our International Recruitment Services
Providing an immigration advice is often a service that we offer as part of recruitment package to our prospective and current clients. Apart from this, a look at some of the other value added services offered by us are:


Manpower Consultancy
Once the potential candidate has been identified, the next step is his selection test, oral or practical, by the employer or his authorized representative. For this we make complete arrangements for travel, accommodation etc, ensuring that the candidate reaches the place in right time.

In case we are entrusted with the selection & testing of the prospective employee, we conduct it with the help of a panel of experts,for technical & professional categories, under direct supervision of our professional executives.

Strong Data Base of Candidates
We have strong data base of skilled and unskilled manpower across India. We update it on frequent basis to ensure better delivery at minimumtime.

Advertising
Although we have a strong data base of candidates, we also advertise the required categories in the leading English and Regional newspapers on panIndia basis including the regional publications of the respective cities.

We also upload our client's requirements on leading Job portals to ensure maximum reach.


Visa Assistance
Being cognizant of all the intricacies involved in an international recruitment procedure, we specialize in providing fast and dependable services. The experience gained by processing millions of travel documents guarantees to have your visa handled quickly (even overnight), accurately, and professionally.


Medical Checkup
Complying with the immigration norms as well as regulations of several corporates, we ensure that the candidate is physically fit for the job. For this, we get the medical check-up done at our end and ask the candidate to undertake the relevant tests at the recognized medical center. A thorough check-up at our end saves significant time and unnecessary complications in a foreign land..

Consulate Formalities
Upon receipt of Visa Documents from our clients, we submit the Passport and other required documents to the consulate for Visa stamping.


Travel and Ticketing arrangements
We undertake complete responsibility of the candidate, taking care of the minutest of details, for the benefit of both, our client as well as the candidate. With our networking and suitable tie-ups, we assist for to and fro tickets, accommodation, and all the paperwork. We also obtain "Emigration Clearance" from the concerned Government Department for the candidates. The employer may send PTA or remit necessary traveling expenses in favor of "Shella Consultants", to facilitate traveling as scheduled.


Orientation Program
Once the candidate has been scheduled for his departure, we conduct an orientation program before his mobilization, wherein he is familiarized with different crucial aspects like the work culture of the prospective organization, industrial practices, safety issues, labor laws, and other relevant issues, so that the time taken for adjustment in the job is minimal.

We act as a facilitator and an intermediary; hence our duties extend equally to the candidate as well. In tune with this, we provide them the tools and resources to make their trip a success. We make a customized package for them, which has the best combination of prices, service, and information.


How we do it?
We possess an excellent database for International Placements in all major spheres of employment.
We have experienced staff members with an extensive working knowledge of the international industries
We work in tandem with several international recruitment consultancies, assisting them with immigration and international legislation requirements.
Our cordial relations with Airlines, Travel agents, Government authorities and Consultants/ Embassies are an added asset.
At Shella, we help you every step of the way, with great information and advice from our staff of expert counselors.